DTTW™ is proud to announce the release of the new M-ELO (Midpoint Extended Life Order) on the Nasdaq, NYSE, and AMEX markets Friday, April 13, 2018!
These midpoint orders were sit for a half second before becoming eligible for execution, and only against other M-ELO orders. This gets these orders out of the way of book clearing orders, and allows like-minded traders to trade against each other.​
Contents
M-ELO Specifications
M-ELO is a non-displayed order type that is priced at the midpoint between the NBBO. M-ELOs will not be eligible to execute until a minimum half second holding period has been met.
M-ELO orders can only interact with other M-ELO orders, which have also met the holding period requirement.
The voluntary resting time prior to a match eliminates the ability for market participants to access the M-ELO book just as the market is transitioning to a new price.

This protects M-ELO traders from negative price impact as the market moves, thus addressing market impact concerns.

The incorporation of a minimum resting time on a M-ELO order protects traders from rapid market movements and adverse selection.
M-ELO provides a mechanism where traders can send orders seeking to minimize market impact.
M-ELO Statistics
Nasdaq has seen strong growth week over week not only in volume, but also in symbols active/traded, quote stability, and notional.
The following table shows quote stability as a percentage where the quote remains static 1 second following an execution in M-ELO. We have seen this grow to 80%, which, when taking volume/symbol growth into account, highlights the fact that MELO provides protection against book clearing orders while maintaining minimal market impact.

M-ELO activity between March 12 and April 6, 2018. All figures are daily averages.
The following table shows M-ELO's volume growth over time.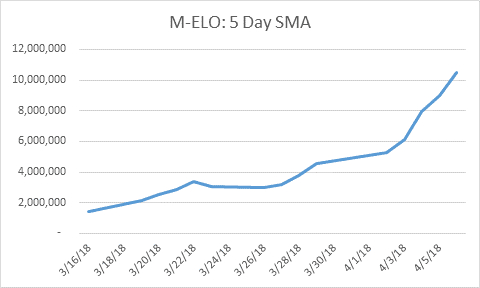 Five-day Simple Moving Average of M-ELO executed volume between March 16 and April 5, 2018.
M-ELO Configuration in PPro8
Your traders can configure the order in Keyboard Setup by selecting the following options:
Gateway: 'NSDQ'

Destination: 'NSDQ'

Order Type: 'Pegged'

Peg Type: 'M-ELO'
Fee Changes
Please be advised that effective Monday, January 3, 2022, the NYSE American changed their fee, the details of which are identified below.
| | | | | |
| --- | --- | --- | --- | --- |
| Gateway | Liquidity Flags | Description | Current Fee | New Fee |
| NYSE American (AMEX) | Start with A except AND, AML and ASB | Add displayed liquidity | -0.0024 | -0.0020 |
| NYSE American (AMEX) | ASB | Add displayed liquidity that set a new BBO | -0.0026 | -0.0020 |
Remember to tell your traders about this brand-new order type—and trade using M-ELO on the US markets!
For more information, please see the official Nasdaq webpage.
If you have any questions or comments, please create a mojo.